Online-Comics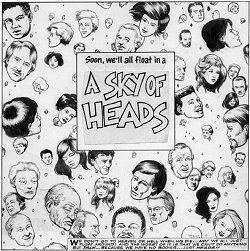 Paul Chadwick gave permission to publish some examples of his comics work on these pages.
Concrete: Enough World
In 1994, three years after the last "proper" Concrete book, this 4-page vignette was published in
Dark Horse Presents #87
. It served as an introduction to the new mini-series
Killer Smile
as well as a showcase of what the series is about and some of the things that had gone before.
Read the complete online version (slideshow)
A Sky Of Heads
This is a rather unusual story that connects in some way to the Concrete universe. Published in colour in
Concrete: Eclectica #2
and never reprinted anywhere, here is the original black and white version. Script, layout and inks by Paul Chadwick, pencils by Jed Hotchkiss. Thanks to owner Rüdiger Krischel for the scans.
Read the complete online version (slideshow)