News
Eddie Campbell at Munich.
Eddie Campbell was a guest at the Comicfestival Munich in June 2015, as part of a group of comic book artists from the UK including Bryan Talbot, Posy Simmonds, Mark Buckingham, Dave McKean and others. Led by the man at the crossroads, Paul Gravett himself, the group had to endure various panel discussions and interviews under the headline "British Invasion".
Here are some videos, made for Splashpages by Bernd Glasstetter:
Eddie is interviewed by Lazy Literature
I had the pleasure to meet Eddie at a signing where he showed me the pilot to an autobiograühical TV series of Alec/Snooter material which unfortunately didn't got made because of the financial recession some years ago.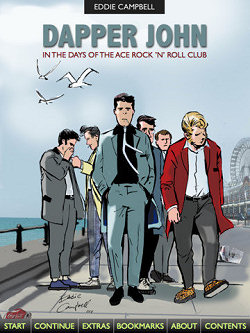 Alec goes digital. Panel Nine, a new digital comics publishing imprint, has just released "Dapper John" by Eddie Campbell for the iPad. The package collects all of the "Ace Club" stories in one place and adds a whole bunch of extras. Campbell has created new artwork for this edition and wrote a special introduction and a whole raft of notes and captions covering the era in which Dapper John strode the small press stage back in the 80s.
The app is available now and sells for $9.99 in the iTunes store. The iTunes preview page is here. And here is the blog for the iComic.
Campbell Blogs. Eddie Campbell has been maintaining a very entertaining and very regularly updated since November 2006, to be found blog at Blogspot.
Must See. Here is a fantastic trailer for THE BLACK DIAMOND DETECTIVE AGENCY!
Comics Journal Interview. There is a comprehensive look at the years of and since Eddie Campbell Comics, his current work and graphic novel theory in a 49-page interview with him in issue 273 of The Comics Journal, as well as 10 more editorial pages on Alec and Bacchus.