News
Paul Chadwick gave his approval to use this site as a place to publish information and news about his current and upcoming projects, so check back here for updates and news about Concrete and his creator.
Concrete is back! Dark Horse Comics, celebrating its 25th anniversary, restarts a print version of its very first title, the anthology book Dark Horse Presents (DHP). It originally ran over 157 issues from 1986 through 2000, and most famously spawned Frank Miller's Sin City. The first issue contained the very first Concrete short story. So what better choice for the opening tale in Dark Horse's latest incarnation (after an almost three year run in digital format at MySpace) than to start with the first new Concrete tale in six years!
Chadwick Weblog. I just found out that Paul Chadwick has a weblog where he posts news on his projects, upcoming covers and other stuff. Check it out!
Contact policy. You can reach Paul Chadwick via an email address at Dark Horse Comics. If want to contact Paul Chadwick directly, feel free to send your email to me. I will forward it to him and he will get in touch with you if he is interested, but please do not bother asking me for his personal email address.
Upcoming projects. The mini-series Concrete: Stars Over Sand has been moved to a later date. "In it Concrete visits the Sand Dunes National Monument in Colorado, USA. This is the largest area of sand dunes in North America, a stark landscape of dunes surrounded by dry mountains. In it Concrete becomes lost and, worse, loses his memory after being struck by lightning. The story is about his fight back to civilization and his life after being reduced to about as little as a man can be -- a node of awareness in a vast, strange land."
Paul Chadwick is writing a Concrete novel. See a pencil sketch for the cover, from Paul's weblog: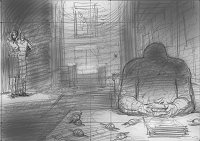 The next big project will be a series written by Harlan Ellison.

In his own words. Find interviews or excerpts at the following locations: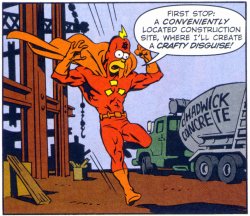 Cameo Spotting!!! The Big Bongo Bumper Crop, Simpsons Comics #50, features a Radioactive Man story by Jesse Leon McCann & Robert L. Graff, drawn by Hilary Barta (America's Best Comics TOMORROW STORIES' Splash Brannigan). Whoever had the idea: it's great. See the picture.